McMenamin's Kennedy School hosts emerging horror directors screening Friday, October 13th at 10:30 pm, following a special screening of the cult-classic Friday the 13th and Opening Night Documentary about The Simpsons voice talent, Jailhouse to Milhouse.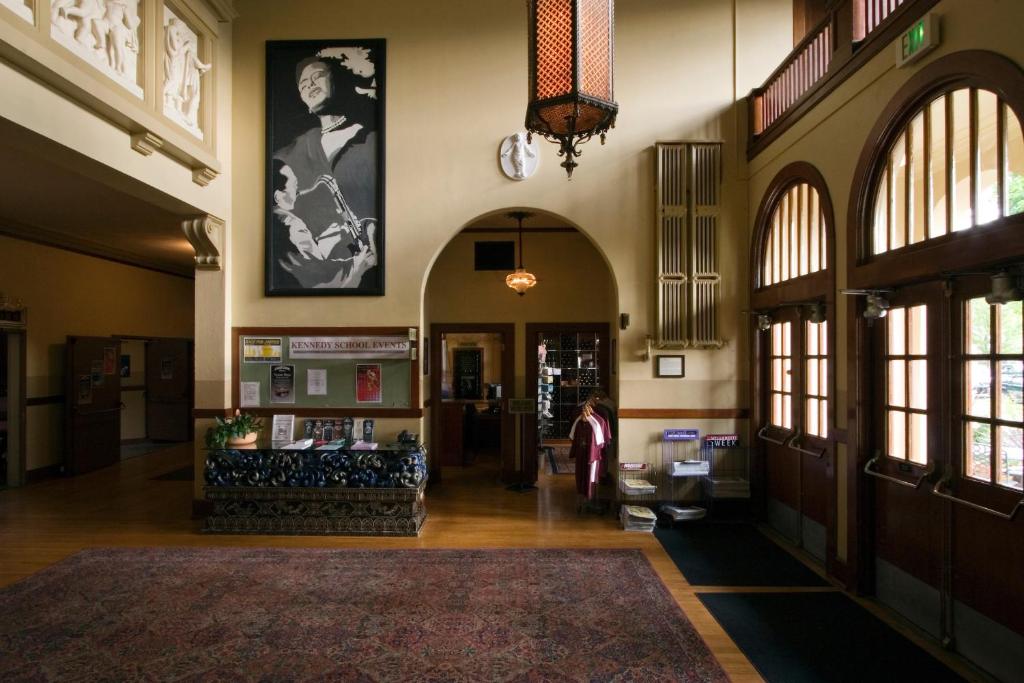 Preview The Best in Independent Film and Meet the Directors, Cast, And Crew
Portland Film Festival has partnered with McMenamin's Kennedy School to introduce Portlanders to the most exciting talent working in independent cinema today.
Once an elementary school, this neighborhood venue is one of McMenamin's most popular destinations, attracting thousands of visitors and locals for cinema and culinary treats every month.

Horror is Portland's Most-Watched Genre of Films
Horror is one of the most popular genres of film watched by Portlanders, and there is no better place to discover the emerging talent of indie horror than at a converted grade school turned restaurant, bar, and cozy theater in the quiet neighborhood of Concordia in NE Portland, at the Kennedy School.
Portland Film Festival kicks Festival off with Top Indie Directors Working In Horror Genre
Don't miss these emerging and talented directors currently working in indie films. They were chosen from a batch of 4800 films. Each has unique and scary movie that challenges what it means to make films in the horror genre. We can't think of any better creativity, authenticity, and fun examples of horror.
Director of Programming Joe Stevens reflected on picking the films by recommending horror film genre fans to look at these talented directors that rise to the top in reflecting on current storytelling. "Don't miss this preview of up-and-coming horror genre films at this year's Portland Film Festival."
Here are the Top Trending Directors in Horror Film Working in the Horror Genre Today
How To Meal Prep During A Famine. Directed by Lindsey Ruggles
When a global famine strikes, a young woman must rely on others to survive.
Tenuto. Directed by Meg Halski
A symphony violinist must learn Eugène Ysaÿe's hauntingly difficult Sonata No. 5 over the span of one weekend. She and her husband retreat to a quiet, historic country estate only to find that it's inhabited by something that has its own plans for their weekend.
Super Deep Down. Directed by Lexi Pappas, Lauren Sevigny
Three friends get away to a lake house to commemorate a divorce and unplug. The day turns dark when they all mysteriously black out for hours. They come to, bloody and disturbed, with only their unhinged social media stories as clues.
It's Not Real. Directed by Tina Carbone
Jess wonders whether the creepy incidents in her creaky old apartment are happening.
Carly. Directed by Emily Lerer
In a dystopian world, a TV show unfolds its dark tale. Carly, the charismatic host of "The Cupcake Factory," presides over a society where "likeability" is the only currency. Winning guarantees a promising future at a haunting cost. What would you do to ensure the well-being of those you love?
Baby Yoga. Directed by Megan Chumbley
An ordinary man inadvertently stumbles into a prenatal yoga class and is severely punished by the
Ride Baby Ride. Directed by Sofie Somoroff
After an unbearably creepy negotiation with some skeevy car guys, a mechanic has to fight off a demonic monster inhabiting her dream 1978 Camaro.
The Tooth. Directed by Greta Guthrie, Jacob Lazarow
After waking up from a nightmare about the loss of one of her baby teeth, Sloane must reckon with a break-up, her strained relationship with her mother, and the death of her father during her childhood — before it consumes her.
Blink. Directed by Julie Bruns, Steven Kammerer
Dark and moody, this Sisyphean short descends into examining the painful cycle of domestic abuse in a darkly musing psychological thriller frame.
Sorry, Dumpling. Directed by Becca Suh-Hee Han
On the eve of their wedding anniversary, Don is attacked by a mysterious K-idol wannabe and desperately tries to escape before Kayleigh unknowingly returns. Don doesn't even like K-pop. What the heck!
Pre-Screening Directors Chat includes Pastries and Free Coffee
Don't miss the talented directors at their screening at 10:30pm on Friday, October 13th. Also, get the opportunity to hear about their stories over coffee and pastries in the Portland Film Festival's Headquarters at 11:00 am for a directors chat. All films screening for the day have been invited to bring crew or talent to ask answer questions and chat.
Buy tickets today to watch these up-and-coming directors! Find out more info online at portlandfilm.org.